Lowrey Brass And String Symphonizer Organ In Pristine Condition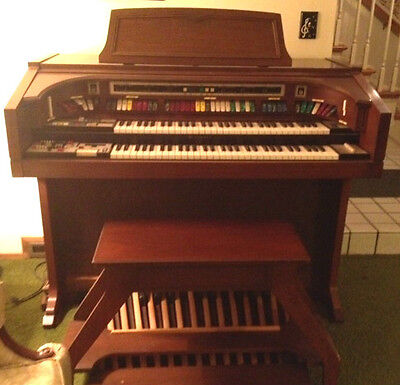 This organ is an original Lowrey Brass Symphonizer, purchased brand new in the 1970s. This console organ also incorporates the String Symphonizer. Many beautiful orchestral effects can be achieved.
The organ has always been in the house in a temperature controlled environment. Although the organ is sold as-is, it is like new as it was hardly played. All systems seem to be in excellent working condition. There are a few small marks on the base of the foot pedal area, other than that I am not aware of a scratch on it. It is a nice walnut color with a matching bench
Although there are many smaller options now for organs, if you are looking for a pristine console organ that provides big sound with great flute voicing, wonderful strings and bass then you will enjoy this organ. The Brass and String Symphonizer can duplicate the trumpet, saxophone, trombone and many other brass instruments including violins and viola. It is a fun instrument to play with all the options available and also fun to use when learning how to play.
Size: 3' 8" tall by4' 5" wide (to end of keyboard). Foot pedals stick out back to front 3" 10"
There are 15 foot pedals with10 black and 2 keyboards. Numerous stops.
Local pickup or BUYER MAY ARRANGE FOR INDEPENDENT SHIPPING at their cost. Buyer and seller to arrange for an agreeable day/time for pickup. Item must be paid for in full via Pay Pal prior to pickup. No exceptions. Payment must be received within 24 hours of auction close. This is a one of a kind item so there are no exchanges and there are no returns.
Similar Items For Sale